Vibrant Natural Medicine
Acupuncture Services – Tulsa, OK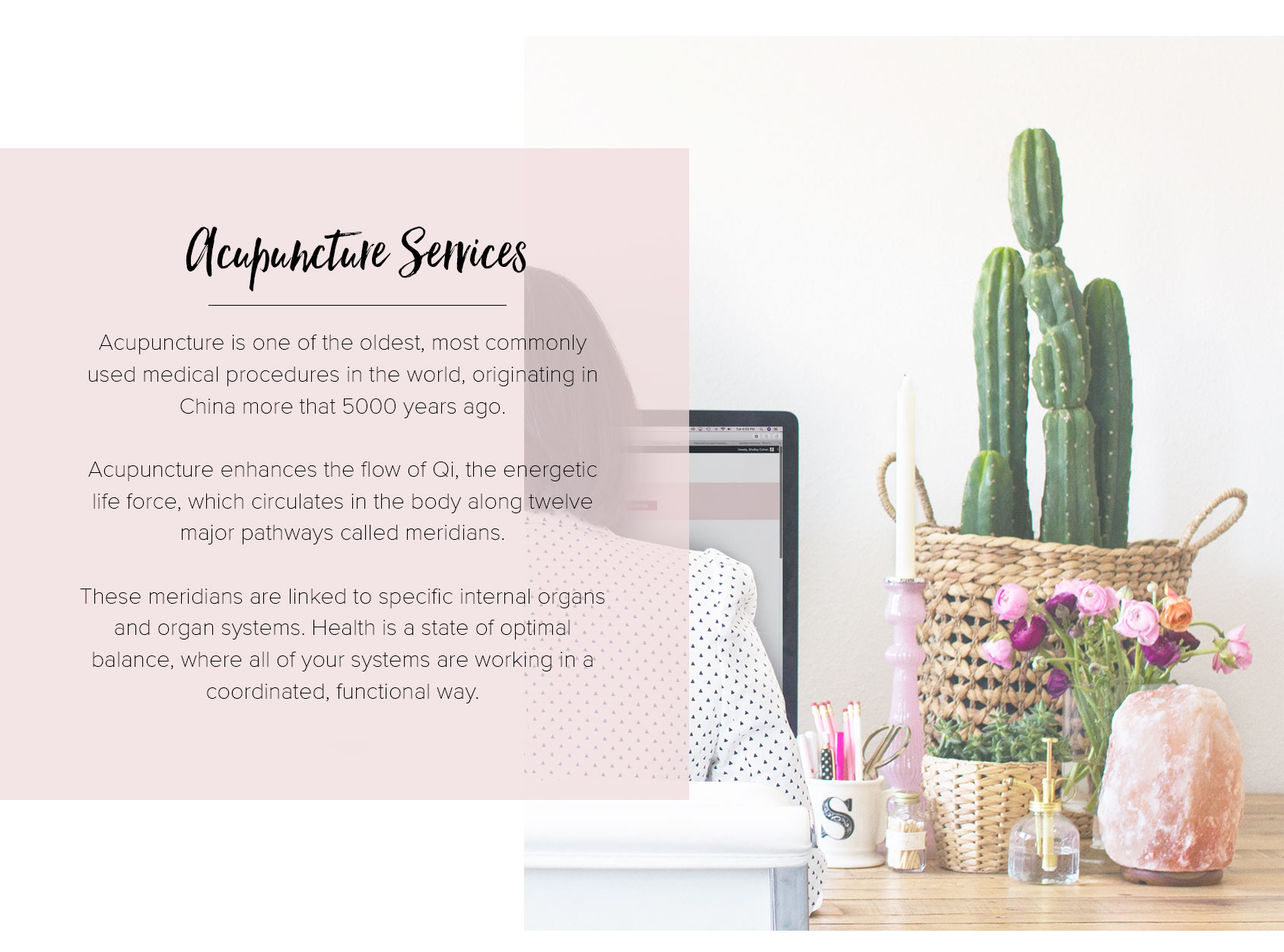 Symptoms occur when there is a state of imbalance in the body.
An acupuncture treatment involves the stimulation of precise acupoints on the body via a small needle inserted into the skin or with a microcurrent device.
The combination of points are prescribed based on the pattern of imbalance determined by the practitioner. The stimulation of these acupoints can alter physiological responses in the body to correct and rebalance the flow of energy to improve symptoms, relieve pain and restore health.
The World Health Organization recognizes almost one hundred diseases, symptoms, or conditions for which acupuncture is effective.
Conditions I frequently treat with acupuncture:
Musculoskeletal and arthritic joint pain
Fatigue and "burnout" symptoms
Anxiety
Insomnia
Allergies
Women's health: hot flashes and menstrual cycle dysfunction
Immune system balance: low functioning or autoimmune conditions
Poor circulation
TMJ
Headaches
Fibromyalgia
High blood pressure
Nausea and vomiting
Sciatica and peripheral neuropathy
Side effects from chemotherapy and/or radiation
"For years I have suffered with severe TMJ that involves neck, shoulder, and facial pain. The chronic pain from the TMJ also causes anxiety, which affects several aspects of my life. I have seen TMJ specialists and dentists, worn mouth appliances, and had extensive dental work completed. Even after all of these treatments, I saw very little improvement in my symptoms. In search of another option for improving my pain, I started working with Dr. Gomendi in 2016. I was apprehensive about acupuncture at first but willing to try it.
Incorporating acupuncture and naturopathic medicine therapies have proven beneficial and I have experienced great improvements in the TMJ, neck pain, and anxiety. I would definitely recommend acupuncture and naturopathic medicine therapies with Dr. Gomendi for anyone suffering from these symptoms."

– Ruby
Take your first steps on your path to a vibrant, healthier you by scheduling your initial Naturopathic Medicine consultation by calling me at 918-995-7001.
For more information on scheduling and prices click HERE
A few other ways we can work together and get you back to being your most vibrant self!
Click here for more information on Thyroid Imbalance
Click here for more information on Digestive Health
Click here for more information on Women's Health and Natural Hormone Balancing
Click here for more information on Integrative Oncology Support
Click here for more information on Naturopathic Medicine
Click here for more information on Chronic Fatigue
Click here for more information on Autoimmune Conditions
Vibrant Natural Medicine – Dr. Sara Gomendi
Naturopathic Doctor – Tulsa, OK
Tulsa Naturopathic Doctor | Tulsa Natural Medicine | Tulsa Holistic Practitioner | Tulsa Naturopathic Medicine | Tulsa Functional Medicine | Tulsa Holistic Doctor