Are you struggling to lose unwanted fat in those hard to target areas?
Melt it Away With LipoLaser Fat Loss Treatments!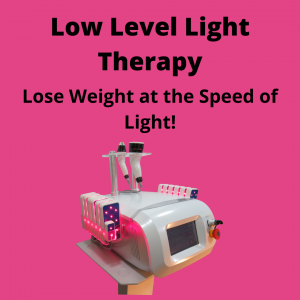 LipoLaser (low level light therapy) treatments are a painless, safe, and effective way to target areas of unwanted body fat! This slimming system uses low level red light therapy specifically designed for body contouring by shrinking fat cells and helping to shape and tone the skin via stimulation of collagen production.
Simply place the pads directly over areas of stubborn or unwanted fat and watch it melt away!  No need for surgery, bruising, or down time!
The LipoLaser technology targets fat cells, creating pores in the cells that allows them to release stored fat into the lymphatic system, where it's metabolized.  It has been shown in a double-blind clinical trial to emulsify adipose (fat) tissue and result in several inches of fat tissue reduction within 5-10 treatments.  The results in the study were maintained with healthy diet and exercise habits.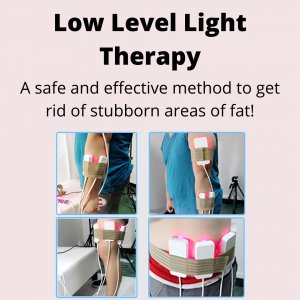 Benefits to LipoLaser:
Non-invasive (no bruising or downtime)
Body slimming
Cellulite reduction and contouring via collagen production
Relaxing and pain-free
Fast and effective
LipoLaser Testimonials From Our Patients:
Woman targeting her upper thighs with a result of 1 and 1/4 inch fat loss on each leg.  
"I can't believe how fast, easy and effective the LipoLaser treatment with Dr. Gomendi was. We hit what has been a problem area for me in 5 treatments and I had significant results! I did exactly what she said to do in conjunction with the treatments and was shocked at how easy it was. I highly recommend  for anyone wanting to target problem areas! "
Man targeting his abdomen and "love handles" with a result of 2 inches of fat loss.
"The zippers in my work slacks were tearing apart due to excess weight I had gained through my waistline. I had to buy new pants which were 2 sizes larger than what I had been wearing.  I tried the LipoLaser treatments at Vibrant Natural Medicine and was pleased with the results I got with my first 5 treatments during the 8 days from when I started.  When I started, I weighed 271.2 lbs. and had a 45 inch waistline.  After my 5th treatment I weighed 263 lbs. and had reduced my waistline to 43 inches. Now, over one month post LipoLaser sessions, I have maintained my inch loss and my pants are fitting great! I highly recommend these treatments and following the protocols if you want to feel and look better in your clothes by spot reducing the area you would like help with"
Want to drop a pants size by next weekend?*  Schedule your LipoLaser treatments today!
How it works:
We start with a set of 5 treatments targeting your specific problem area.
Measurements are taken before and at the completion of the fifth session.
The treatments are painless and relaxing!
LipoLaser sessions are sold as a package of 5 treatments for $350.
Call our office at 918-995-7001 to get started.  
Come melt away your fat while you take a nap!
*Results vary by individual. Anyone who is pregnant, breastfeeding, has epilepsy or a pacemaker are not candidates for this therapy.
Vibrant Natural Medicine – Tulsa, OK
Tulsa Weight Loss Solutions | LipoLaser Tulsa | Fat Burning Solutions Tulsa