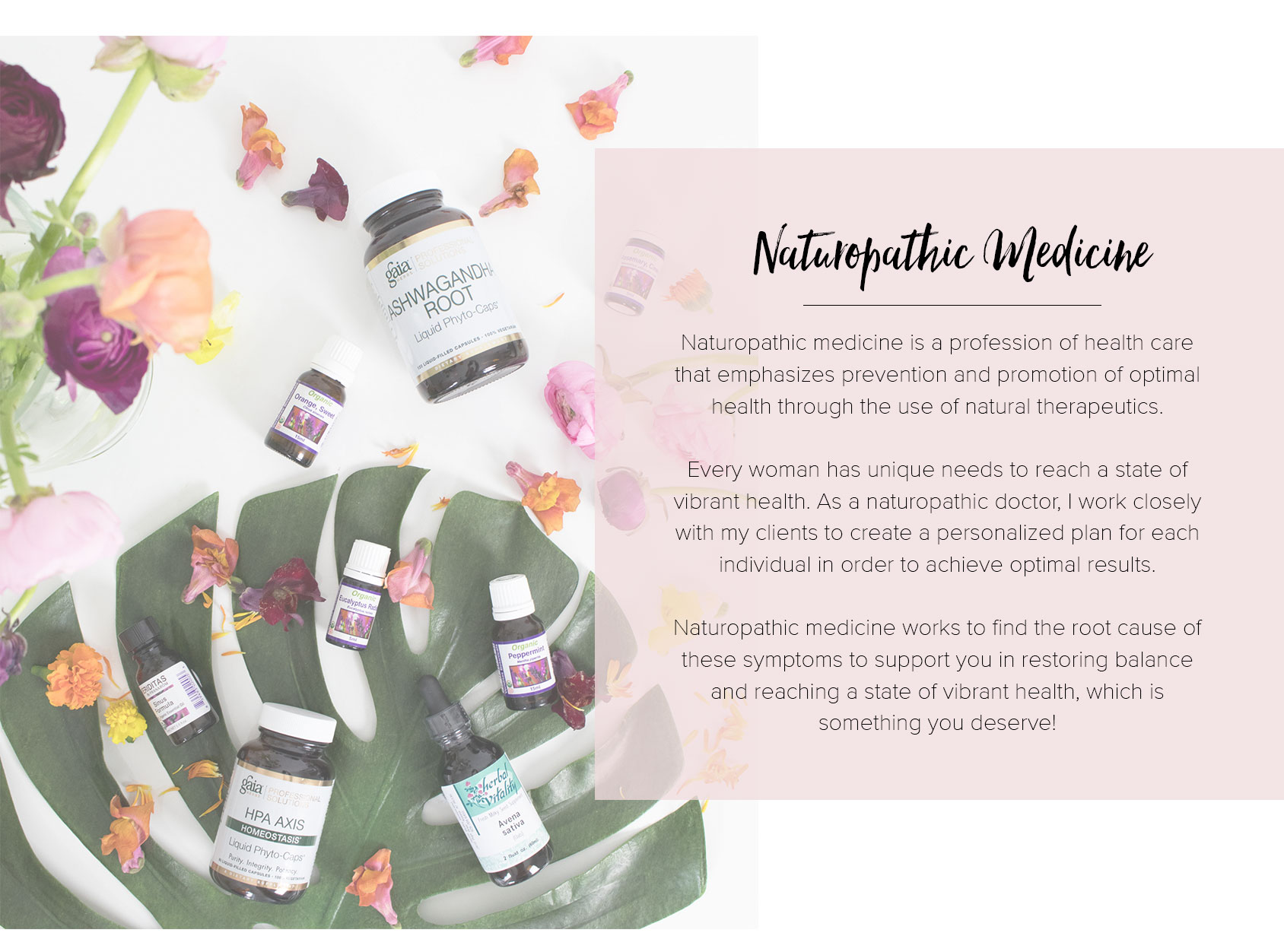 The philosophy of naturopathic medicine is based on the following six principles:
The healing power of nature.
The body has an inherent ability to establish, maintain, and restore health.
Identify and treat the cause.
Naturopathic doctors seek to identify and remove the underlying causes of an illness, rather than suppress presenting symptoms.
Naturopathic doctors use the least invasive, non-toxic therapies to minimize the risk of harmful side effects.
A doctor's most important role is to educate and encourage each patient to take responsibility for their health.
Naturopathic doctors treat the whole person by taking into consideration one's physical, emotional, spiritual, mental, genetic, environmental, and social factors.
A Naturopathic doctor's ultimate goal is to prevent disease; they are specifically trained to assess risk factors and hereditary susceptibilities and make the appropriate interventions.
Naturopathic medicine visits involve a comprehensive intake to establish health goals, discover the underlying causes to your wellness concerns, and create an individualized treatment plan collaboratively with you.
Conditions I frequently treat: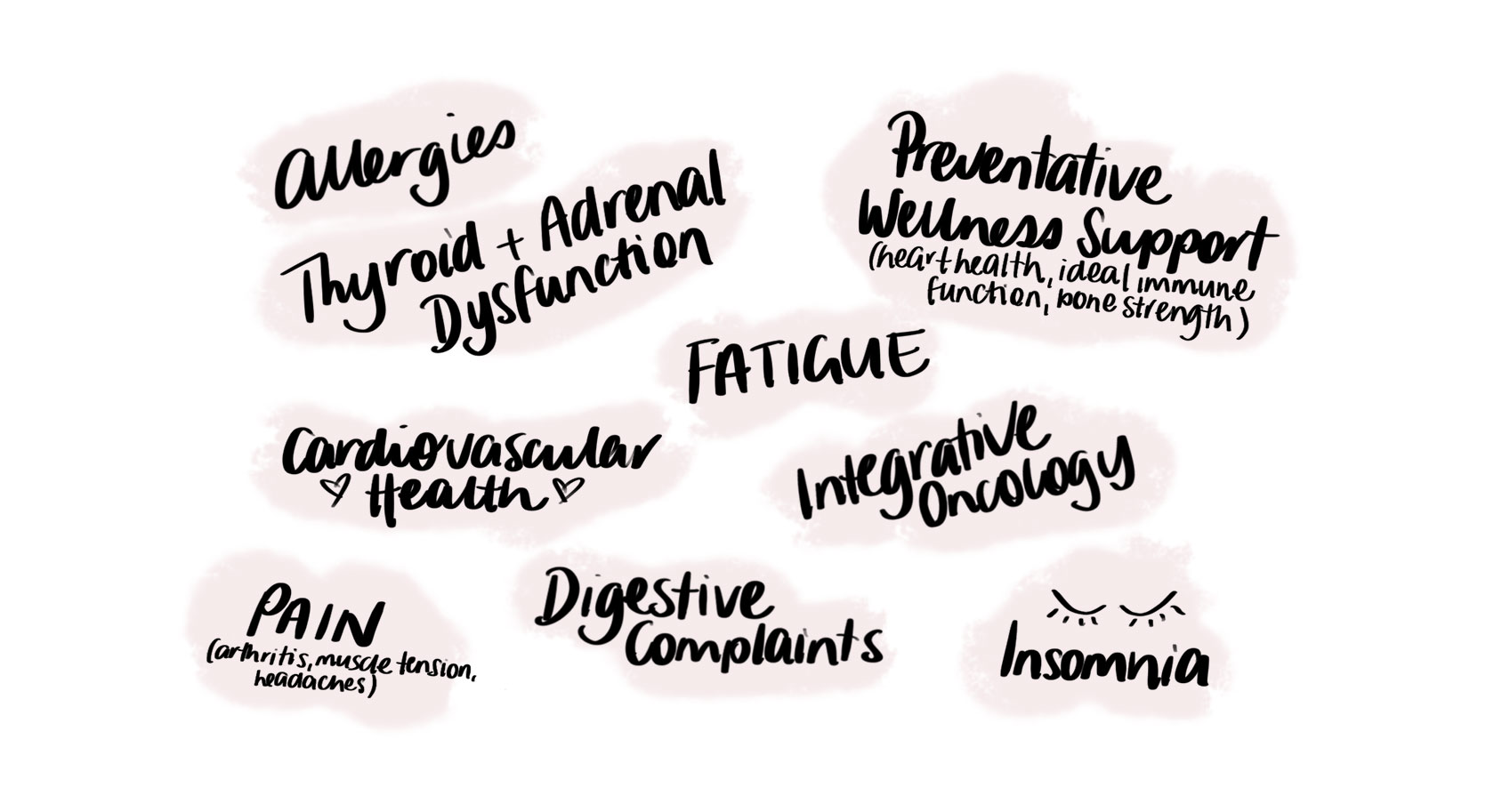 Thyroid and adrenal dysfunction, Fatigue, Digestive complaints, Pain (arthritis, muscle tension, headaches)Cardiovascular health, Insomnia, Allergies, Integrative oncology, Preventative wellness support (heart health, ideal immune function, bone strength)
Naturopathic Medicine Treatment Plans May Include:
Dietary recommendations
Lifestyle modifications and goal setting
Vitamin and mineral supplementation
Acupuncture
Homeopathic supplementation
Herbal medicine
Stress management techniques.
Aromatherapy
"For several years, I have consulted with Dr. Gomendi regarding a variety of issues that included fatigue, muscle pain, food sensitivities, kidney stones, and acute illnesses. I am grateful for her expertise, as she helped me by combining her deep knowledge of naturopathic medicine with a variety of modalities and therapies — acupuncture, cupping, essential oils, vitamins, and herbal formulas.
I always feel better and more in tune with my body and health after my appointments with her, and I continue to see her on a regular basis. I find Dr. Gomendi to be an excellent listener and a serious professional who is dedicated to collaborating with her patients to find the best ways to optimize their wellness."
– Amanda K.
Naturopathic Medicine Pricing + How it Works:
You schedule an initial Naturopathic Medicine Consultation
During the initial consultation, we will thoroughly review your current state of wellness and begin tailoring a plan to get you back to feeling like your most vibrant self.
DURATION: 45 – 60 minutes     INVESTMENT: $165
Follow-up visits after your initial Naturopathic Medicine consultation.
DURATION: 45 – 60 minutes      INVESTMENT: $90
Packages of 5 follow-up visits are available for $375 (savings of $75)!
Take the first steps on your path to a vibrant, healthier you by scheduling your initial Naturopathic Medicine consultation. Call the office at 918-995-7001 to get scheduled.
A few other ways we can work together and get you back to being your most vibrant self!
Click here for more information on Thyroid Imbalance
Click here for more information on Digestive Health
Click here for more information on Women's Health and Natural Hormone Balancing
Click here for more information on Integrative Oncology Support
Click here for more information on Chronic Fatigue
Click here for more information on Autoimmune Conditions
Click here for more information on Acupuncture Services
Vibrant Natural Medicine – Dr. Sara Gomendi
Naturopathic Doctor – Tulsa, OK
Tulsa Naturopathic Doctor | Tulsa Natural Medicine | Tulsa Holistic Practitioner | Tulsa Naturopathic Medicine | Tulsa Functional Medicine | Tulsa Holistic Doctor